On 29th September, FSG Somalia company and FSG Office of Safety and Security (SAFSEC) officially launched the well-organized security training for Garowe International Airport in Pundland, Somalia.
Senior government officials including Chief of Puntland Police Force, Minister of Aviation, and Minister of National Defense attended the opening ceremony with head of FSG Somalia and experts from FSG SAFSEC. The Puntland officials warmly welcomed the FSG team and highly praised FSG's significant contribution to improving the overall capabilities of Puntland police force and airport management in recent years.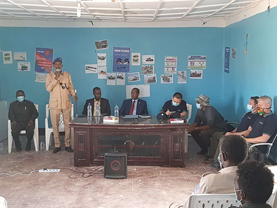 Chief of Puntland Police Force speaking at the opening ceremony

After the ceremony, 40 trainees selected from the current airport police took written test and physical test. These trainees will be deployed at Garowe Airport as the first batch of security backbone force of FSG in Somalia to perform the tasks of guarding the airport periphery and security inspections in the field.
The training marks the beginning of implementation phase of the Puntland International Airport operation and management project. It is FSG's first key project in Somalia, which lays a foundation for providing comprehensive services in the future to more large-scale projects and more international investors entering the Somali market.