---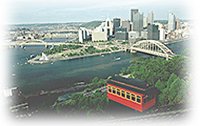 Concept Food Sales started as a food service only broker in 1978. Concept had formerly been a fast-growing department of a long established retail broker. The decision to specialize was done to answer the market demand for a broker focused on this growing industry segment. We flourished under this arrangement thus reinforcing our decision to specialize. Never being satisfied with the status quo, in 1993 we further enhanced our market coverage when we merged with a highly reputed foodservice broker, Specialty Food Sales of Altoona, PA. Each move was done with immediate economic sacrifice but long-term results.
The aforementioned merger resulted in complete office facilities in both Pittsburgh and Altoona. Each facility has fully equipped test kitchens, walk-in freezers and coolers, and organized point-of-sale systems. The location of our facilities provides an advantage over our competition given the distribution volume generated in each city.
In keeping with our philosophy of total customer service, we maintain full time personnel, equipped with vans, to assist our sales staff in sample preparation and organization, and our customers in resolving the complex issues of just-in-time inventory management.