15:00 pm, 30 April, 2020 Lao local time, Lao Ministry of National Defence ("the Ministry") presented a Certificate of Honour to FSG for its support in the Ministry's fight against COVID-19.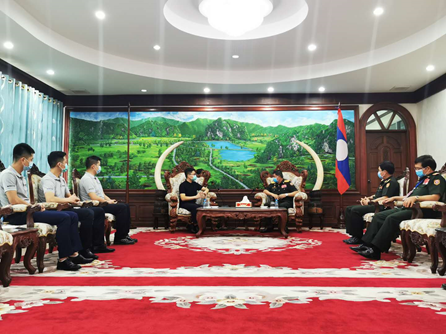 Photo 1: Meeting Venue

Ever since October 2019 when FSG Lao Division signed a comprehensive strategic cooperation agreement with the Lao Air Force under the Lao Ministry of Defence, the two sides have been collaborating closely to integrate resources. Positive progress has been made in cooperation of supporting facilities of the Air Force headquarters, helicopter charter business within Laos and emergency rescue, etc. During the fight against COVID-19, FSG gave full play to its advantages and cooperated with the Ministry to prevent and control the epidemic. Facing the shortage of anti-epidemic materials and blocked logistics channels, FSG integrated its resources in international technical security, built logistics passages and provided the Ministry in a timely manner with newly developed temperature measuring security equipment.

Major General Vongkham Phonmakone – Director of the Ministry's General Logistics Department and Chairman of COVID-19 Prevention Special Unit said: "As a long-term partner of the Ministry, your company has provided timely assistance and scarce protection materials at the most critical time of our fighting against the pandemic in Laos, demonstrating strong sense of social responsibility. We will definitely use the materials to the front line of epidemic prevention and please allow us to express sincere gratitude towards your company for supporting us."
Wang Pengxu, General Manager of FSG Lao Division, said: "China and Laos are close neighbours. As a representative Chinese enterprise deeply engaged in the Lao market, we are grateful to the Lao government and friends for their support and assistance. In the face of the pandemic, I would like to thank the Ministry of Defense and other departments for their greetings and care for us. 'A friend in need is a friend indeed.' The solidarity of China and Laos in co-fighting the pandemic further strengthens our determination to develop business in Laos for a long term. FSG will proactively shoulder its social responsibilities, promote businesses in multiple segments including security, insurance, logistics and infrastructure, and devote itself to promoting the quality development of Lao's economy."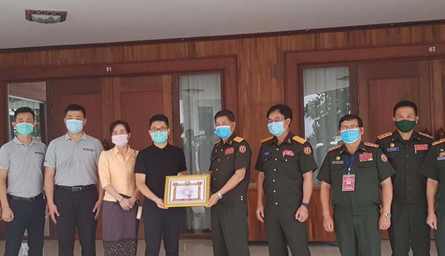 Photo 2: Lao Minister of Defence presented FSG with the certificate of honour
Finally, Major General Phonmakone presented FSG with the Certificate of Honour issued by Minister of Defence General Chansamone Chanyalath and expressed thanks on his behalf. He said that facing the severe epidemic situation, he hoped that the two sides would continue to support each other, work closely and jointly safeguard the health and safety of the Lao people and Chinese enterprises in Laos.