China's anti-poverty efforts can add to continent's strategies, forum hears
People-centered policies coupled with good governance and leadership as demonstrated by China could help Africa eradicate poverty, experts and policymakers said.
They found common ground during a webinar on Tuesday that was jointly hosted by the China-Africa Institute, the Chinese Mission to the African Union and the United Nations Economic Commission for Africa.
At the event, the Communist Party of China was praised for its commitment to poverty alleviation and economic development that resulted in the country winning its battle ahead of a schedule set out by the United Nations.
"Congratulations to the leadership, CPC and people of China for having achieved the extraordinary results of reaching the eradication of poverty, 10 years ahead of the deadline that was set by the United Nations," said Ngandu Ilunga, ambassador of the Democratic Republic of the Congo to Ethiopia, the AU and the UN Economic Commission for Africa.
Tang Lixia, a professor in rural development and policy at the College of International Development and Global Agriculture at China Agricultural University, said the proportion of rural residents living below the poverty line in China fell from 20.2 percent in 2012 to zero in 2020.
She said by the end of 2020, after more than four decades of efforts, China had lifted 832 poor counties out of extreme poverty.
Ilunga said Africa can learn a lot from China, helping to inspire policymakers on the continent to put together programs that will help the AU Commission and the member states to implement the best practice from China.
"China has demonstrated that good governance, good leadership and mobilization of resources can certainly lead to important results," he said.
Ilunga said the leadership in Africa should learn from China's experiences, revisit their cultural values assessment and ensure that people-centered inclusive programs on poverty alleviation are fundamental to efforts to raise living standards.
He said he hopes China can help Africa eradicate the root causes of conflicts as well as build good governance and stability so that programs such as poverty alleviation can find a favorable environment to be fully implemented.
Concrete activities
"We look forward to these concrete activities trickling down at country level, rural areas level and urban areas which have the most populations and where there are poverty alleviation and building inclusive prosperity challenges," he said.
Albert Muchanga, the AU commissioner for trade and industry, proposed that China through its ambassador to the AU come up with a strategic program of collaboration on poverty reduction in Africa for 2021-2030 to enable the continent to meet the commitment of the UN's Sustainable Development Goals.
"Through the programs we can have a leader champion on poverty reduction in Africa, who would regularly report to the peers on the efforts we are making to reduce poverty and hunger in Africa by 2030," he said.
Noting that the AU's Agenda 2063 stipulates that from 2023 African economies must grow at a minimum of 7 percent a year, Muchanga said the AU is open to partner with China in realizing the target.
Liu Yuxi, Chinese ambassador to the AU and the UN Economic Commission for Africa, said China will strive to be a strong supporter of poverty reduction in Africa.
He said the Asian powerhouse will continue to share its poverty-reduction experiences with African countries as well as help the continent to formulate effective strategies.
"China will continue to work with Africa on poverty reduction, so that the fruits of our friendly cooperation can benefit more Chinese and African people," Liu said.
"We will deepen the connection of FOCAC(Forum on China-Africa Cooperation) and BRI (Belt and Road Initiative) with AU Agenda 2063, especially helping the AU to achieve its aspiration of eradicating poverty and achieving sustainable development."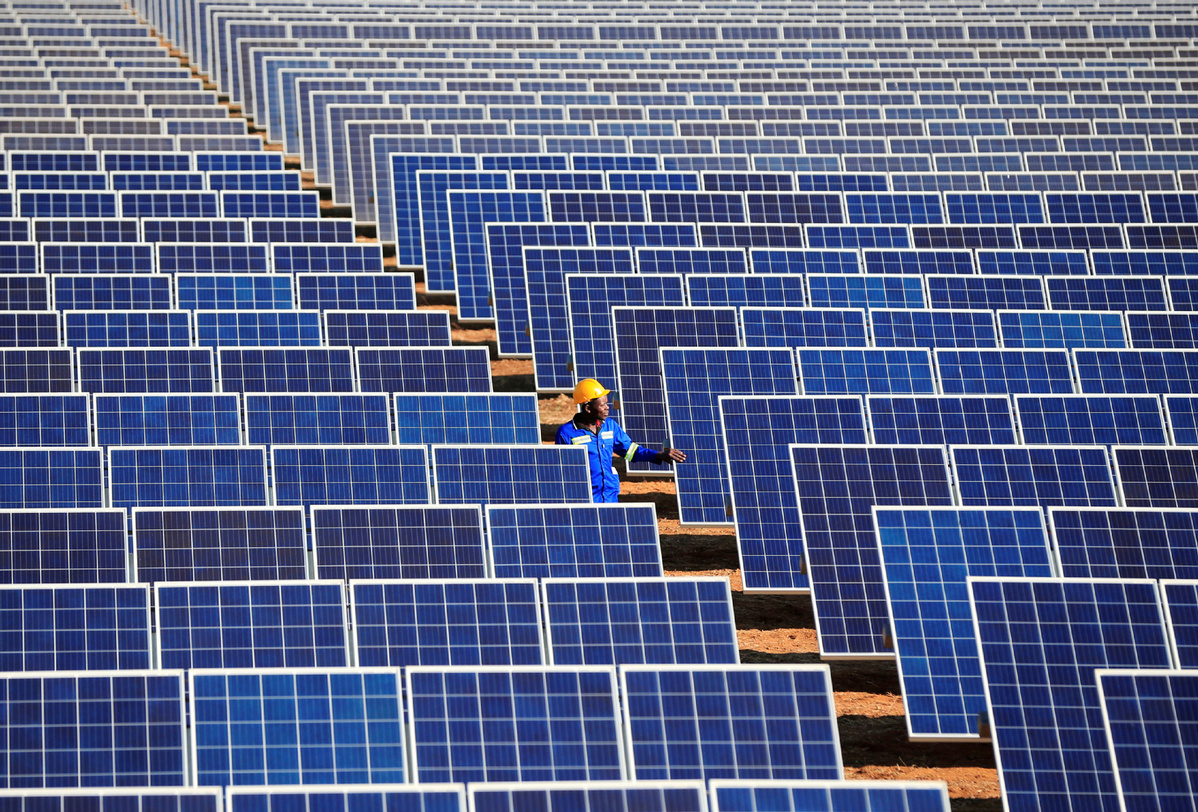 A worker walks between solar panels at Centragrid power plant in Nyabira, Zimbabwe, June 23, 2020.
By EDITH MUTETHYA in Nairobi, Kenya | China Daily | Updated: 2021-06-24 10:20

https://www.chinadaily.com.cn/a/202106/24/WS60d3ec0aa31024ad0bacb32e.html