On June 26, 2020, Mr. Mike Benish, Training Director of Safety and Security Office of FSG, led his team to support an online safety management lecture themed "Join Hands for Win-Win in 2020" hosted by FSG Mozambique and Mozambique branch of Chinese Chamber of Commerce. FSG security professionals shared know-how on overseas safety management and risk control with security managers of Chinese enterprises in Mozambique and other overseas Chinese representatives. Over 50 enterprises attended the lecture, including China National Petroleum Corporation, China Railway Construction, Huawei and Lenovo.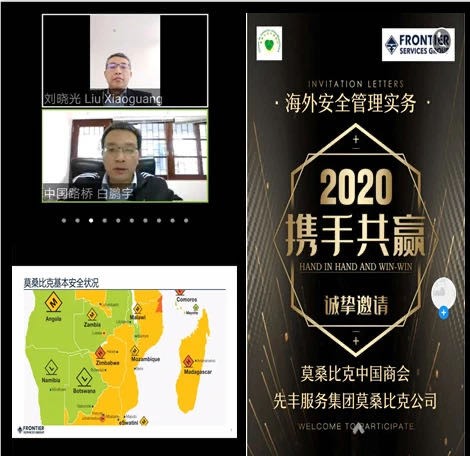 FSG security professionals started with the assessment of current safety conditions, relevant management system and case handling procedures, with reference to the actual situation in Mozambique and various security crisis responding cases. They provided professional guidance on how Chinese enterprises and personnel stationed in Mozambique could ensure safety during the epidemic, especially residence safety and travel safety. Participants raised questions and received informative answers. The lecture, novel in form and purpose-serving in content, received high acclaim.

The Chinese Chamber of Commerce praised this lecture for good timing. At the critical moment when the epidemic lasted for months and in the context of various traditional and non-traditional security risks, the sharing of FSG security professionals is helpful for Chinese enterprises to conduct effective security work under the state of emergency in Mozambique, to improve security management so as to protect the personal and property safety of Chinese and local employees. It's also helpful to enhance personal safety awareness and self-protection level of local and overseas Chinese.

This lecture demonstrated the professional capabilities of FSG and promoted the connection between FSG and various overseas Chinese-funded enterprises. It also testified FSG's dedicated efforts to take root in the host country, serve the community and guarantee the security of international investors including Chinese.