On March 23, 2021, Frontier Services Group signed strategic cooperation agreement with China Geological Survey of the Ministry of Natural Resources of China. Mr. Zhong Ziran and Mr. Li Pengde, Director and Deputy Director of China Geological Survey, witnessed the signing of the agreement together with Mr. Chang Zhenming and Mr. Luo Ning – Chairman and Vice Chairman, and Dr. Hu Ping, CEO of Frontier Services Group. Responsible people from relevant departments of both parties and from subordinate units of China Geological Survey also attended the signing ceremony.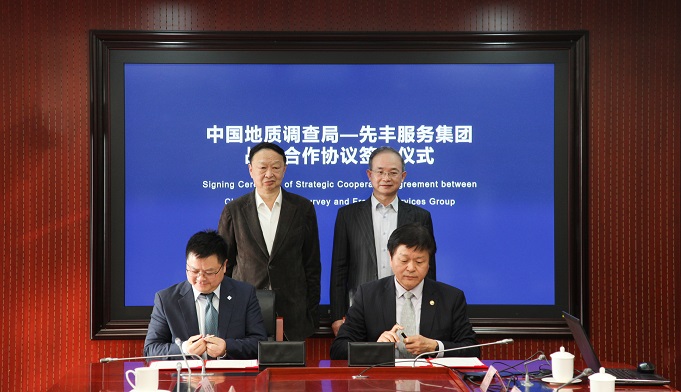 Under the Ministry of Natural Resources,China Geological Survey is responsible for the unified deployment and organization of China's basic and non-profit geological and mineral exploration, and provides basic geological information for national economic and social development, and public welfare services to the society. Frontier Services Group has established the Frontier Strategic Resources Fund that focuses on guiding geological surveys as well as investment in exploration and development of important mineral resources in key countries. Leveraging the localization advantages of Frontier Services Group in the host countries, the Fund intends to actively promote cooperation between the counterpart department of the countries and China Geological Survey so as to facilitate the geological survey, and the exploration, development and utilization of mineral resources in the countries.
Through cooperation with China Geological Survey, Frontier Services Group will have access to professional technical guidance and support for geological work. With its own international security and logistics capabilities, Frontier Services Group will be able to better serve international investors in the exploration of mineral resources and related work in risky areas. In the future, the two parties will adhere to the principles of information sharing, complementary advantages, coordinated development, and promote pragmatic cooperation with relevant countries in the fields of basic geological survey, capacity building, energy and mineral resource development.